Local Area around Greenacre B&B
The North Coast 500 (NC500)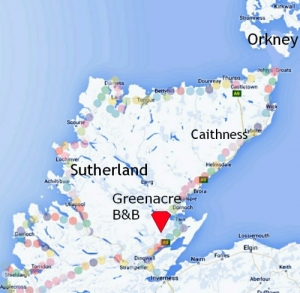 Inspired by the USA's Route 66, our own, increasingly popular tourist route, the NC500 runs up past Alness 4 miles from the B&B.  Here are a few things you may do or see if you decide to take the route – if you decide to stay at Greenacre B&B each one of these activities or trips can be taken in in a day.
Called North Coast 500 it is really just a new idea linking  villages that have been around for centuries (some 1,000s of years!).
More information on the North Coast 500 can be found here www.northcoast500.com
Dolphins and other Wildlife and impressive Birdlife

Moray Firth Bottlenose Dolphins, Whales, Seals and a wide selection of sea life and birds can be seen across the NC500 coastlines.  Dolphin Cruises set out from Inverness and the Black Isle and can be seen from the shore at many points across the Northern Coast such as Channory Point where this photo of the leaping dolphin was taken.
Castles and History
In addition to the close by Dunrobin Castle, home of the Dukes of Sutherland there is the Inverness Castle and The Castle of Mey (the Queen Mother's favourite retreat).  There are Broch's, buildings and treasures from a lot further back in ancient Scottish History too.
Day Trip to Orkney – See back 5 million years
You can leave the mainland behind completely! Orkney has several millennium of history with Scara Brae showing a settlement approximately 5,000 years old and the ancient Standing Stones of Stenness and world famous Ring of Brodgar. Take one of the day trips to the Orkney Islands. Regular ferries leave from nearby Gills harbour, John O'Groats and the Scrabster terminal.
Highland Beaches and the Highland West Coast

The Highlands have a wealth of coastlines with miles of virgin sands on the East Coast from the Moray Coast to Nairn, the Black Isle to the North and further  North and West coasts have many sandy and secluded rocky coves.  Surfing is available and popular on many.  The West Highlands profit from the gulf stream to provide superb, almost tropical plants in places coupled with a dramatic craggy coastline and spectacular sunsets

Birding – Greenacre is and ideal base!
Going birding at Greenacre can mean trips to the RSPB reserve at Nigg (30 minutes drive away), walking in the woods behind the house, driving and walking in the area, or just sitting in the conservatory, bedroom windows or Garden with binoculars (provided in the rooms).
Red Kites fly freely across the fields and have nested in the woods behind Greenacre and Buzzards, Kestrels and Owls can be seen from the B&B along with Woodpeckers, Wood Pigeons, Collared Doves and many other birds – across the wider NC500 area Puffins, Osprey Sea Eagle, Golden Eagles and many other majestic and interesting birds can be seen.